Travel With Experts & Explore The Cayman Possibilities
Customised Grand Cayman Tours
Expect the tour of your choice to be customised, whether it's all island sight-seeing, East side or West side or boating excursions. We will have you feeling like a real local at the end of our fun filled private, personalised tour!
Book Private Group or Personalized Bus Tours & Excursions
Ride in air conditioned comfort in one of our two beautiful private sightseeing island tours vehicles and enjoy our island in TRUE LOCAL STYLE. We'll take care of all your island touring, sightseeing and exploration needs in Grand Cayman, in our 29-seater bus or our 14 seater bus. Our staff's huge abundance of local knowledge about our history, culture, geography and people is passed on to you with true Caymanian warm hospitality.
Because our on-land transport service covers such diversity, we quote you attractive prices with stellar service and air-conditioned vehicles. Whether visiting our historic highlights or simply sightseeing, we enjoy being flexible while catering to your every need.
We'll happily customize an outing of your choice on land/sea, with our specially discounted prices across the board, honouring the global financial "norm" of recent times.
Book Private Boat Charters
Being an offspring of world renowned CAPT.MARVIN'S, we have operated as Cayman's Tourism landscape, transitioned from primitive to sophisticated in this industry. It has been a truly amazing experience for us to serve you for more than 40 years. Come and retreat in style on board our beautiful and spacious vessel, as you enjoy a private charter of your choice featuring the best Cayman has to offer.
Free transport, soft drinks, water, ice, fully sterilized snorkelling gear and vest. (Bring your own gear if so desired)
Our 3 hours tour (3 stops)
-Stingray City, Coral Garden & Barrier Reef. $900 USD
Our 4 hours tour (3 stops)
-Stingray City, Coral Garden & Starfish Point $1,200 USD
Our 5 hours tour (4 Stops)
-Stingray City, Snorkelling, Starfish Point, beach bar for drinks/food and possible sunset $1,500 USD
Our 4 hour Reef fishing
-We supply all bait and gear, however you can bring your own gear. $750 USD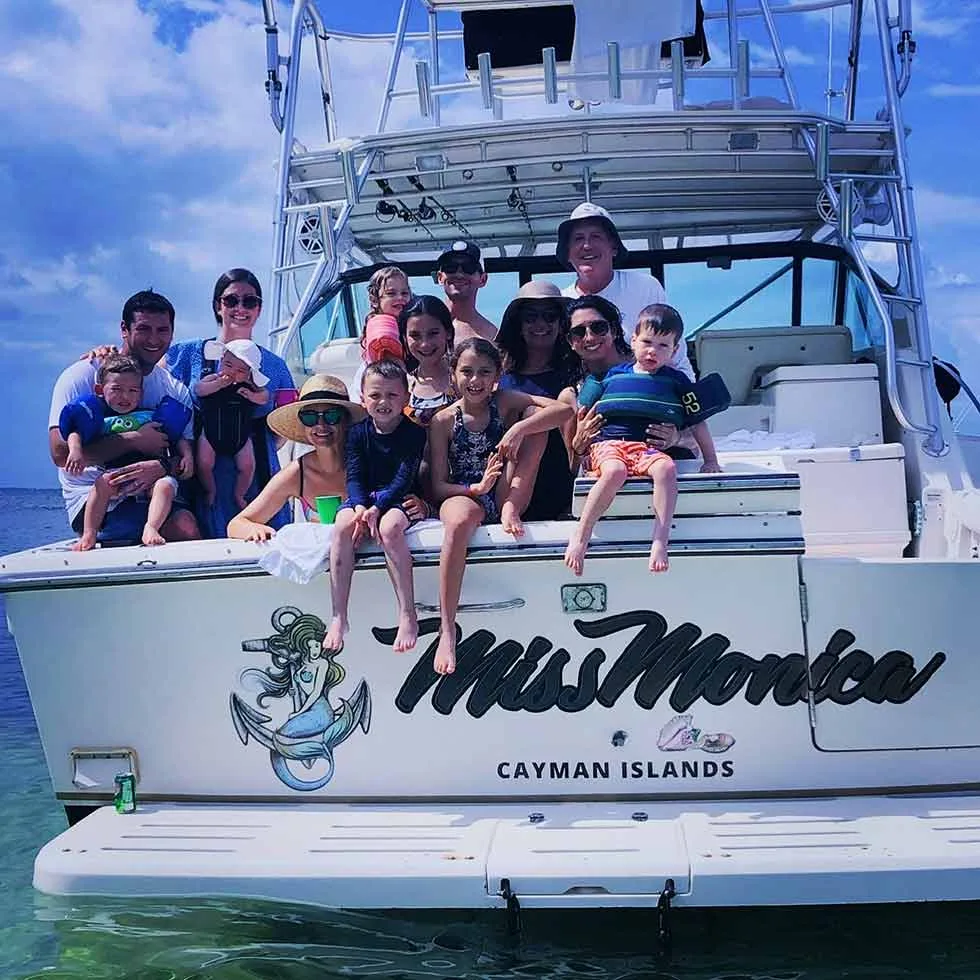 Book a boat charter and rejoice in warm waters and abundant sea life.